Miracles Do Happen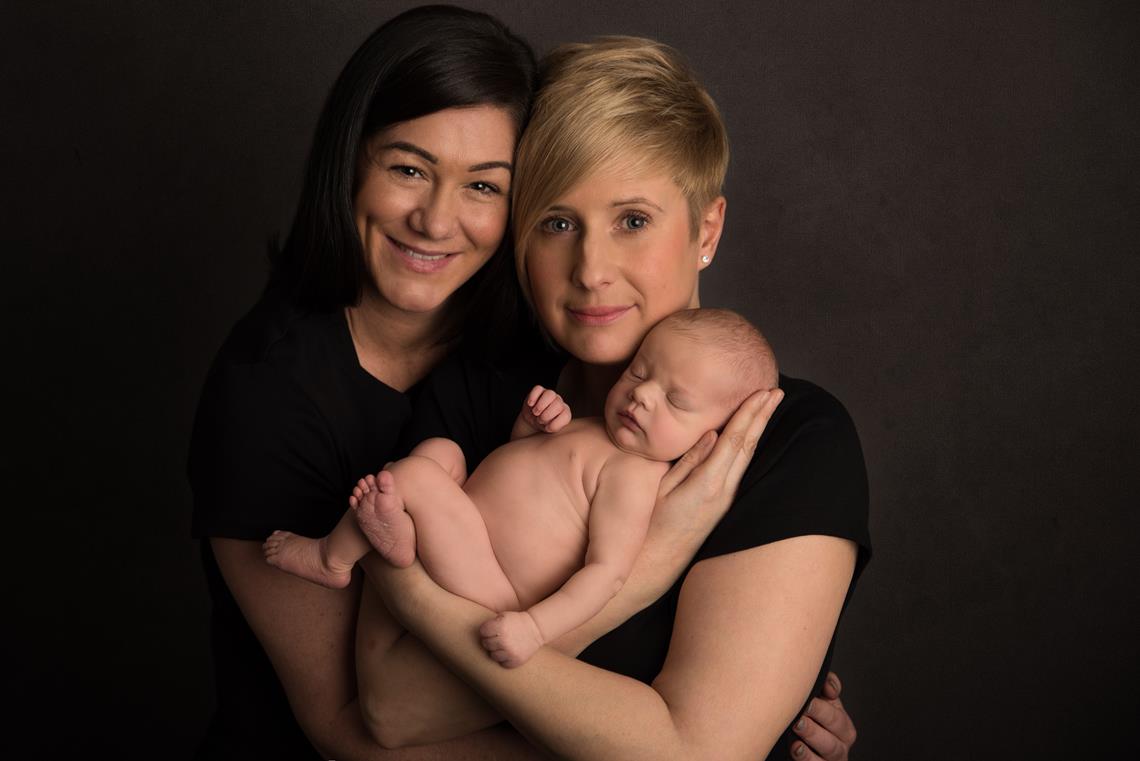 On the 10th January we had the pleasure of welcoming Kelly, Emma and beautiful baby Evie into our studio for their newborn photoshoot and with their permission we can share their amazing story about their little miracle.
Our IVF Journey by Kelly and Emma.
After being together for almost 5 years and having already bought our own home, the natural next step was to start a family. Being a same sex couple we knew we needed to go down the route of IVF and so the saving started.
It was always our dream for myself (Kelly) to carry Emma's baby however we didn't think our finances would allow this, so we made the decision to continue using my eggs. Over the next couple of months we had to travel to the IVF clinic several times for scans and blood tests.
In December the journey started and it was time to inject the fertility drugs daily to help produce lots of eggs. Just after Christmas we had to go to the clinic for a scan to check that the drugs were doing as they were supposed to. Sadly this wasn't the case, I didn't respond to the medication and the consultant cancelled our cycle. We were utterly heartbroken and it was such a struggle dealing with the news. We had no idea what would happen next and had to wait until the end of January to see our consultant for a follow up appointment. It was a very hard month.
At our follow up appointment we got some good news, the consultant suggested we used Emma's eggs and luckily it was realised this was financially possible. Now Emma needed blood tests and scans so further trips to the clinic were needed. We often done a 6 hour round trip for a 5 minute appointment which was tiring but we knew it would be worth it.
In March 2017 it was all go, the clinic gave me medication to take to match my monthly cycle to Emma's so my body would be ready to carry the embryo and Emma started to inject the drugs daily. At the progress scan it was confirmed that the drugs were doing their job and Emma was responding really well having produced lots of follicles. Once the follicles had grown to the correct size Emma was booked to go to theatre to have her eggs extracted. This was really painful for her even though she was heavily sedated and made her unwell for a couple of days.
The clinic took care of the eggs and injected them with the donor sperm we had chosen through their donor bank. Overnight the eggs fertilised creating our 9 embryos. The embryos were checked on a regular basis throughout the next few days, unfortunately some didn't make it but this is expected. It was a worrying time because this was our only chance of having our own little family, we crossed our fingers and prayed some would survive for the required 5 days and be healthy enough to be transferred. On the day of transfer we were travelling to the clinic and received the call that we had 4 healthy embryos and transfer would go ahead. The embryologists choose a 5AA graded hatching blastocyst to be transferred which is the best you can get and we were told to do a home pregnancy test 12 days later. This is called the two week wait, it's a nerve wracking time as the embryo is either going to implant and become a baby or it won't. It's hard not to worry but we decided we had to stay positive, we believed if we were positive it would work but it was still a difficult time. We were very impatient and couldn't wait the full 12 days to test, we tested 8 days after the transfer which was Emma's birthday. The 3 minutes we had to wait for the result felt like a lifetime but we couldn't believe our eyes when the two lines appeared, we were absolutely ecstatic, jumping around and screaming…..what a birthday present! We couldn't believe our luck and tested every day for almost a week to make sure it was real.
Getting a positive result isn't the end of the worry, we now had to wait 3 more weeks until our 7 week scan at the clinic to confirm the pregnancy was viable, this was a long 3 weeks and again we hoped and prayed our little baby was safe and growing well. Relief washed over us when we saw the heartbeat on the screen and we could breathe again.
The pregnancy continued to progress healthily and Evie made her arrival on her IVF due date on 2nd January 2018. We are so grateful for medical science and thank our lucky stars every day that we now have our own little miracle to make special memories with.
This is a video Emma and Kelly put together about their journey.
I think you will all agree that this is pretty amazing and we were truly honoured to capture Evie's first photos. If any of you are going through something similar, here are some of the resources Emma and Kelly found useful.
Donor Conception Networks Website.
If you would like to enquire about prices or make a booking ring us on 07990725414 or find us on facebook.
Sam xx
Award winning newborn, children and family photographers covering West Cumbria and the Lake District