Once upon a Time
20th September 2015
admin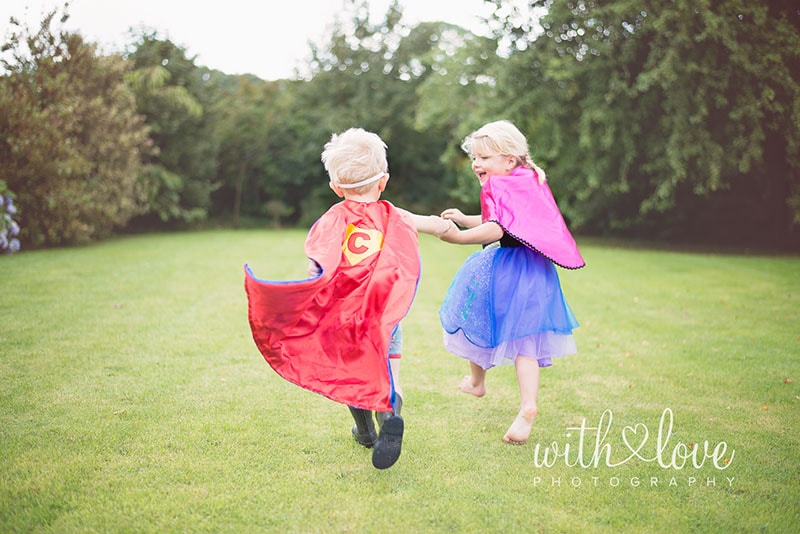 So our little people have turned three can you believe it, this means they are starting nursery. We do miss them so decided on our day off from newborn photography and nursery to have a dress up day.
We couldn't help but get the camera out and so pleased we did. We always tell our customers how important it is to take photos all the time as they grow so quickly and they are changing all the time.
Bo was loving her Anna from Frozen dress that she got for her birthday and Caleb was rocking being a superhero, they had so much fun running up and down the garden. We sneaked in some posed/unposed shots too, this is a trick we have mastered over the years how to get posed shots to look more natural.
A girl can never have too many dresses, I am rather chuffed with the little dress I bought off Etsy for Bo peep from Amos and Sawyer https://www.etsy.com/uk/shop/AMOSandSAWYER She loved twirling and dancing and we got some amazing photos, I want them all up on my walls. Caleb's superhero outfit was from Sew Heroics https://www.facebook.com/SewHeroic
Living in the lake district, Cumbria there are a million beautiful places to photograph but sometimes an ideal setting is right on your doorstep. Victoria has the best garden ever, from the giant lawn to the crab apple tree to the orchard. The orchard was a perfect setting for the 'Once upon a time' theme, we got them to pick a poisoned apple (only kidding it's not really poisonous) from the apple tree and love these photos too.
The bokeh with the 50mm Nikkor lens is ridiculous, we had it wide open at 1.8f which gave the photos a lovely softness, teamed with our trusty Nikon D800 we love the results.
In the near future this will be the setting of our studio meaning family shoots can have a mix of studio and outdoors if they want to, who knows we may even get to do a few newborn photo shoots outdoors too! It's so exciting.